I send art out to a few sci-fi/fantasy conventions. Nothing original, just prints because they're lighter and smaller than original art. Lighter and smaller = less shipping cost. Prints also seem to have a more appealing price point than originals.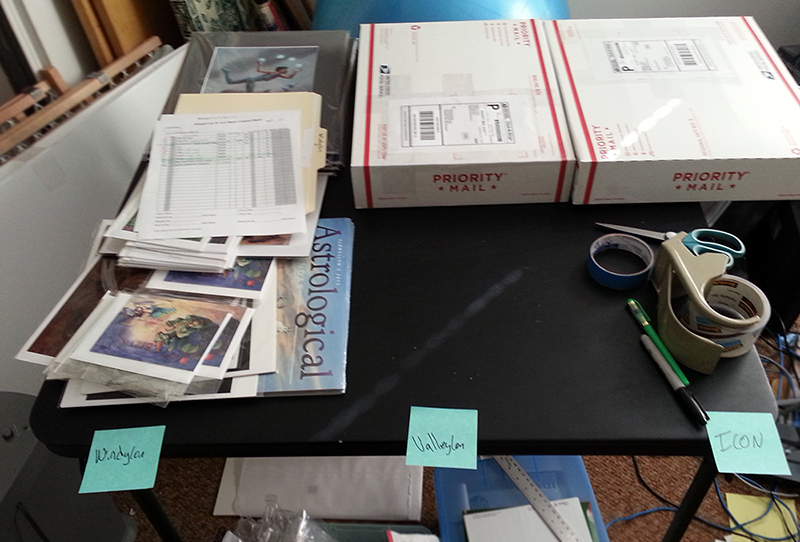 Most convention art shows I send art to have a display area and a print shop. The Display area is usually for originals or limited edition prints. Here the art needs to be framed or matted and bagged (make it look presentable and professional). The print shop can be open edition prints and they can be unmatted but usually need to be bagged, labeled with piece name and price. They also require paperwork: an artist information sheet; a display control sheet (list of pieces and prices); a print shop control sheet; and completed bid tags for each piece in the display area.
Here are a few things I've learned.
Lists are excellent. Since the required elements and process for sending art to each show are very similar, I created a generic checklist. I print one for each convention and mark tasks off as I go. The list become my second brain. All the organizing happens from that list so I don't forget anything.
Tape. Most of the shows want the bid tags attached to the art. From working the Art Show at CONvergence I've learned that the blue painters tape is excellent for this. It's sticky enough for the bid tag to stay put but is easily removed later.
Postage. Using USPS.com to purchase postage is cheaper than postage purchased at a post office. I go by weight and dimensions of the box, or type of USPS box for shipping. I use an electronic kitchen scale, which we already had, to weigh the packed box. The shipping is generally much less than one of those flat rate boxes.
Boxes. USPS has FREE shipping materials (boxes and envelopes). You can order them from USPS.com.
Piles. Piles and Post-it Notes are also help. Mind you, they are organized piles. One for display art and one for print shop art.
File folders. Each convention is assigned a labeled folder. The checklist and all the paperwork goes in there. It stays with me so I can refer back to the previous year or check the return shipment against my copy of the art list.
Packing. I learned to cushion the ends and short sides with bubble wrap or bunched up clean plastic bags. As added protection I put a sheet of foam core or cardboard on either large side, basically creating a sandwich with the art in between.
Tracking art. To track what went where or what sold (hopefully), I print a copy of the control sheets for my records. Ideally I also mark what number of the print run for a piece I sent out. This way if it sells I can mark the piece as sold in my limited edition print list. I'll also know whether or not to send the same piece the following year.
Waiting. Just let it go. When the box leaves my hands, that's it. I take it off my mental list of things to do and don't worry about it.
Unpacking. Ideally I do this within a few days of receiving the box. I check their list of pieces against the copy of what I sent. Usually everything adds up. Once or twice there have been discrepancies but the art show organizer for those instances resolved the issue.
Evaluation. Something sold? Great! Nothing sold but all the art came back in one piece? Great! Getting the art out in front of eyeballs is my goal. Getting me AND the art out together would be ideal but that's not always possible. I might reevaluate this at the end of the year. Maybe next year I'll focus my energies on shows I can do in person. We'll see.
Resources.
USPS FREE shipping supplies https://store.usps.com/store/browse/category.jsp?categoryId=shipping-supplies
ClearBags, as the name implies, has clear bags. They also sell standard size cut mats, backing boards, boxes, etc. Currently I cut my own mats because I want specific colors but I've stocked up on bags from them.  http://www.clearbags.com/
Convention Wiki is a decent starting place if you need a list of shows. You'll need to look each one up because some of them are defunct. https://en.wikipedia.org/wiki/List_of_science_fiction_conventions