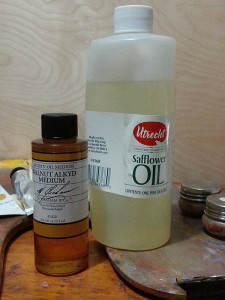 I needed a solution for painting without solvents so I turned to M. Graham's Walnut Alkyd Medium, an Artists' Oil Medium. There are several options out there but this is one of the products I have on hand.
I'll be doing an oil painting demo at a sci-fi fantasy convention in a few weeks. When I paint in my studio I have more control over the ventilation but at the convention there will not be any windows to open, no good way to refresh the air, and the space I'll be painting in is fairly small.
I usually use Gamblin Odorless Mineral Spirits(OMS) because they say it has the lowest evaporation rate of the artist OMS currently available. But still, I can smell it as well as the Galkyd Lite. Both contain petroleum distillates. I decided painting without either of these products would be best choice in this situation for myself and others in the space. I chose to try M. Graham's Walnut Alkyd Medium. I've been meaning to give it a shot for a while so now seemed like a great opportunity. I like it for what I'm going to use it for.
Dry time.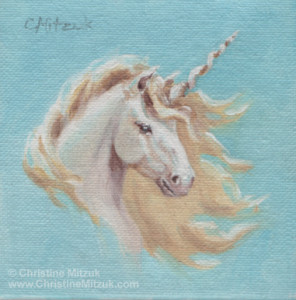 The paint plus the Walnut Alkyd Medium dries slower than when I use Galkyd Lite but that's ok. I'm not on a deadline. When I use Galkyd Lite my paint is usually dry in about a day or less, but I don't trowel on the paint.
I made this unicorn study last Saturday (about 4 days ago). Sunday the paint was still a bit wet. Monday the blue was dry to the touch, but the yellows mixed with white were tacky, and the whites were wet. Tuesday the yellowish areas were pretty much dry and the whites were tacky. Today (Wednesday) it is all dry to the touch.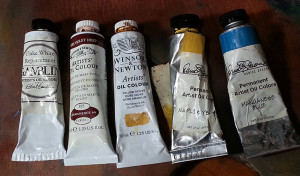 This time I used Gamblin's Flake White Replacement which is Titanium dioxide and that seems to dry a bit slower for me. I could be applying it thicker than the other areas.
I like the consistency.
For my more finished paintings I like to be able to blend colors, have crisp or soft edges where I need them, and not leave many peaks of paint. The medium helps thin the paint down and allows me to blend a little easier. It made my painting fairly shiny all over. There is one spot that's a little dull so either I didn't use the same amount of medium in that spot or that's where I touched the painting to test for dryness. I'll go over it again with a glaze of some color and walnut medium to even out the sheen.
Easy clean up.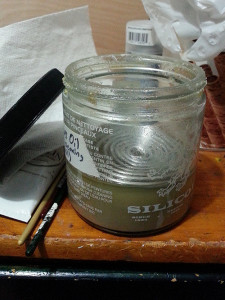 I didn't use solvent for clean up this time. I wiped any excess paint off my brushes with a paper towel like I usually do. Then cleaned out the remaining paint as best I could in my Silicoil jar filled with Safflower oil. Then I washed my brushes with brush soap and water. For the convention I'll just clean my brushes in the safflower oil and wash them when I get home.
Why safflower oil? It's relatively inexpensive and it's a painting oil. I could have purchased some walnut oil or poppy oil but at the time I bought it it was the least expensive painting oil. Why not use the walnut painting medium to clean my brushes? Because it has alkyd added to it which is a dryer and I don't want to goop up my brushes. Why not use regular old cooking oil for clean up? I certainly could do that. In fact I've tried that in the past and I was able to get the oil paint out of my brushes but I had to wash them really really well when I was done (they felt slimy after the first soapy wash). Cooking oil isn't a painting oil, basically it doesn't dry. If I got any of that cooking oil in my painting, it wouldn't really dry well or it would remain tacky.
Side note: when I worked at an art supply store a customer came in with a problem. He had used cooking oil as his painting medium and it wasn't drying so he was hoping to make it dry after the fact.
Other Products
The only other solvent free painting I've done was with the Solvent-Free Gel by Gamblin. I used it on a plein air study. It was great because it was portable (I have a tiny tube). For the plein air study I liked it because I retained my brush strokes of a fairly heavy application of paint. The final study is very glossy though. Maybe I used too much of the medium. I'll have to try it again some time.
Gamblin also has a Solvent-Free Fluid which I haven't tried yet. I've heard good things about it from another artist so maybe I'll give it a shot at some point.
If anyone knows of other mediums or ways to reduce solvent use, I'd love to hear about them.
Happy painting

Edit 05/07/2016: ideas for solvent free painting are from Gamblin http://www.gamblincolors.com/studio-safety/solvent-free-painting/ and from "The Painter's Handbook Revised and Expanded" by Mark David Gottsegen, published by Watson-Guptil Publications/New York, 2006.