Only two weeks away! The third Unicorn Art Show will magically appear in Northeast Minneapolis. I will have three pieces in the show this year. My art will be there but I have another commitment so won't make it to the show. I'm bummed about this because I've been able to get sneak peeks at what some of the other artists have created and WOW I wish I could see the work in person.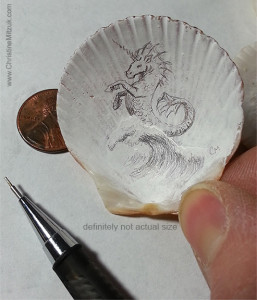 Here's a peek at one of the pieces I've made. It's a tiny silverpoint drawing done in a shell. For this one I brushed onto the shell a little Silverpoint Drawing Ground. Each piece is framed with frames that have a hint of weathered beach cottage about them.
Side note: I purchased the frames from Hang It (I don't get anything from Hang It for mentioning them here, I just think they have great customer service so want to share).
Opening night is Saturday, April 8
7:00 - 11:00 PM CDT
at Artspace Jackson Flats
901 18 1/2 Ave NE
Minneapolis, Minnesota 55418
For more information, visit the show's Facebook event page https://www.facebook.com/events/1262857730462445/

Follow on Instagram! If you missed the show last year, you can see some of the work on Instagram as well as some sneak peeks of some new work https://www.instagram.com/unicornartmpls/