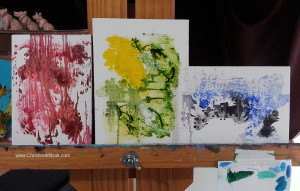 In my efforts to loosen up and trust my imagination more, I decided I need to strengthen my creative intuition, trusting my gut and follow where my imagination takes me instead of putting on the brakes too soon and following the "rules". I think it's important for me to have a blend of the judge and the playful art monkey. A blend of rule following and exploration.
Inspired by a landscape I saw at the Minneapolis Institute of Art by Max Ernst titled "Landscape with Lake and Chimeras" c1940 (I think it was this one). The description next to the painting pointed out that it was "created by putting paint down, sticking a sheet of glass or paper to it and then removing the sheet to make 'unexpected textures' ". Surrealism and Dadaism were two of my first artistic loves so rediscovering an artist from that era feels lovely. Being at MiniCon this weekend and seeing Jon Arfstrom's work again, I realize that some of his imaginative works also had a hand in inspiring me to do this. Hopefully I'll have more on Jon Artstrom at a later date. If you haven't seen his work you're in for a real treat.
A few weeks back I had leftover paint on my palette and was feeling adventurous so I put some paint on some prepared boards, added a little solvent, and then stuck a sheet of glass on top. I decided to make them color themes (reds, yellow+green, and blue+black+white). I smushed, tipped, and twisted the glass-board-paint stack. What I ended up with were some very interesting textures.
This week I took some time to explore and follow my intuition instead of going through the planning phases. Here's what happened. I'm calling them Foundlings. These three will be with me for sale at Spectrum Live next weekend in Kansas City, MO (hopefully dry). I will be set up at Artist Table #14. Stop by and meet the Foundlings.
Edit: these and a few more will be with me at the IlluXCon Showcase 2017.