Christine Mitzuk is a Minneapolis based artist. She loves to create visual narratives fueled by traditions, tales, the world without and within.
Contact
If you would like to discuss a commission, a design project, licensing, or inquire about purchasing an original, please contact Christine at cmitzuk@christinemitzuk.com.
News, Events, Shows
News
Thanks ICON for awarding my body of work at your show Best Professional Collection 2017! I'm honored!
Events and Shows
Minnesota Women's Art Festival - ONE DAY ONLY! Open to the public. Saturday December 9th, 2017, 9:30 am - 4:30 pm at Colin Powell Center, 2924 4th Ave S, Minneapolis MN 55408
IlluXCon Showcase - Friday, October 20 (8 p.m. to Midnight), and Saturday October 21 (6 p.m. - 10 p.m.). Two nights only! I'll have a table in the Showcase. I'll have several new paintings with me as well as preparatory drawings. Stop by for a visit!
Gen Con - August 17 - 20, 2017 Stop by and say hi! I'll be set up in the Artist Alley, spot #50. I'll have prints of my personal work as well as some prints of work I did for Fantasy Flight Games. I'll also have a selection of original paintings and drawings.
CONvergence - July 6-9, 2017 I had art in the Art Show and also attended. Check out the convention's website for information about the event because next year is its 20th year!
Artists for the Atelier Show and Sale - May 19 - 21. Join us for The Atelier's Instructor Show and Fundraising Sale. Enjoy and purchase prints, drawings, watercolors, oils, sculptures of figurative art, still life, landscape, and imaginative artwork created by artists and instructors of The Atelier. A portion of sales will be donated to The Atelier. This event will be held in conjunction with the Full-Time Student Show so you'll be able to view a LOT of work.
Friday, May 19, 2:00 - 9:00 pm
Saturday, May 20, 12:00 - 8:00 pm
Sunday, May 21, 12:00 - 5:00 pm
Free off street parking is available.
BYTE Restaurant -  show up April - June. Kick off party Saturday April 29, 4-7pm. Christine Mitzuk, Chris Nichols,& Holly Chamas have a three artist show of nerdy,  geeky, imaginative art. BYTE is a new nerdy, geeky themed restaurant in Minneapolis where the owners decided to pay employees a living wage.
Lodestone Coffee and Games - this fun gaming coffee shop is located in Minnetonka, MN. The four elementals are on display at a large size (read more here) and will be up through June.

ConGlomeration - Louisville's geek family reunion. April 7 -9, 2017. I had the honor of being the Artist Guest of Honor.  It's a fun, and friendly convention!
MiniCon 52 - April 14-16, 2017. An friendly Minnesota sci-fi and fantasy convention. I'll work in the Art Show.
Spectrum Live - April 21 - 23 in Kansas City, MO. Science fiction and fantasy art. LOTS of it. Once again I will have a table in the Artist Alley, table #14. I'll have select prints and originals with me for sale. Special guests include Brom, Laurie Lee Brom, James Gurney, Iain McCaig, Wendy & RIchard Pini, Terryl Whitlatch, Frank Cho, J.A.W. Cooper, Terry Dodson, and Gary Gianni. I don't know of anywhere else in the Midwest that you will find this much artistic creativity and imagination under one roof!
Artists for the Atelier - A benefit exhibit and sale.
Friday, May 19, 2-9pm
Saturday, May 20, 12-8pm
Sunday, May 21, 12-5pm
Enjoy and purchase prints, drawings, watercolors, oils, and sculptures of figurative, still life, landscape, and imaginative artwork created by Artists and Instructors of The Atelier. I will have mainly my imaginative work for sale but will also have a few landscape studies, still life paintings, and possibly some figurative work. This event happens at the same time as the Full-Time Student Show as well as Art-A-Whirl. It's a weekend chock full of art!
NEW Art and Prints
See some of the concept art created for
Glorantha: The Gods War (a Sandy Petersen Game)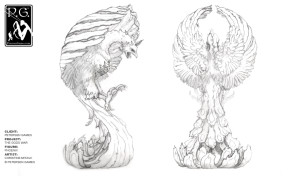 Water Elemental (4th of the elementals limited edition series).
Shop Prints >>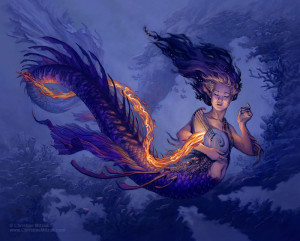 About the Artist
Art has been a part Christine's life for many years in one form or another. For over seven years she worked in graphic design, creating art in her spare time. Craving to know how to make all the imagined creatures and places in her head look real, she quit her job to pursue the full-time program at The Atelier. She completed 5 years of study in May 2011 with a focus on imaginative art.
Now Christine works as a freelance artist. Her graphic design and art skills blend well together. She considers the overall design, aesthetic presence, and core story being told. Some of her clients include Fantasy Flight Games, Llewellyn Worldwide, LTD., BAEN, Great Northern Audio Publishing, Petersen Games, and Lightspeed Magazine, and private individuals.
She also teaches art classes at The Atelier Studio Program of Fine Art in Minneapolis (Gesture, Color Theory, Illustration, Portrait, and Costumed Figure Drawing & Painting), as well as The Art Academy, LLC in St. Paul.
She feeds her imagination through continued study of the figure, nature, and anything that catches her interest. When she is able, she likes to get out and practice archery or ride her Wonder Woman bicycle.
Published
"Voodoo Queen" juried into Infected by Art Volume 4
Llewellyn's 2015 Astrological Calendar
"The Morrigu" juried into Spectrum 20: The Best in Contemporary Fantastic Art
On the Training of Painters: The Atelier's Past & Present, group show exhibition catalog
Drawing and Sketching Secrets: 200 Tips and Techniques for Drawing the Easy Way,
by Donna Krizek, 2012. A sample of my work was used to illustrate drawing from plaster casts.
Juried Shows
2017 Gen Con Art Show
2015 Gen Con Art Show
2014 Shadowed Visions Exhibition at The People's Gallery
2009 Dragon*Con
2007, 2011 Kelly Galleries Fall Small Works Show
Awards
2017 ConGlomeration Best in Show for Voodoo Queen (Woman of Power)
2016 MidAmeriCon II (WorldCon 2016) Best Color Work (for body of work)
2015 CONvergence Best (piece) in Show for Bear Falls
2009 CONvergence Best (piece) in Show for Dragon Mural
2005 CONvergence Best Amateur Piece
Group Shows
2017 Breathing Classical Life into Today's Art, Atelier Studio Program of Fine Art (at the MN Landscape Arboretum Cafe Gallery)
2017 Natur Ball: Hidden Persona
2016, 2017 The Unicorn Art Show
2014 Shadowed Visions Exhibition at The People's Gallery
2011 Atelier show "On the Training of Painters: The Atelier's Past and Present"
2006 Banfill-Locke Center for the Arts "Dance: an exhibition of dance-based imagery"
2007 - 2011 The Atelier Studio Program of Fine Art End of Year Show
Education
SmArtSchool with Rebecca Guay 2012, 2013
Illustration Master Class 2010, 2011, 2012
The Atelier Studio Program of Fine Art (5-year program)
B.S., Design Communications Major (4-year program)
University of Minnesota: Twin Cities
Pre-Landscape Design
College of Agriculture, University of Minnesota