Nature is one of the best places from which to gather reference. I've been working on a piece that is set during twilight. Using my memory, I made several attempts at a twilight color and value scheme in color studies but the look and feel just wasn't coming across. I was trying to get that feeling of the gauzy, dusty, purplish-blue light that seems to cover everything in certain twilight situations I've seen here in Minnesota.
I needed more information. I needed to do some studies from life.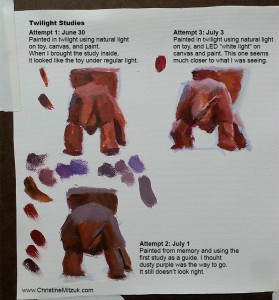 A toy dinosaur of similar color to the creature in my painting made a great stand-in set up outside at twilight. The three attempts all happened on different nights with relatively clear sky because there's only about 30-45 minutes to study the general twilight lighting I wanted.
First attempt: Painted all in natural light outside. Toy, canvas, and paint all under the same natural light. When I brought everything inside, the painted study looked like the toy in regular light.
Second attempt: Painted from memory, and using the first study as a guide for shapes. I thought dusty purple was the way to go for the light parts but it still didn't look right.
Third attempt: I set up outside again. The toy was in natural light. I purchased a two-headed LED music stand clip-on light to shine on my canvas and palette. The packaging doesn't list the Kelvin temperature of the light. To me it seems to be a fairly neutral "white light" if not maybe shifted a little cool. Either way, this made a huge difference for my twilight study. I was able to separate what I was seeing on the toy from what I was painting. I like this third attempt the best and will be using the information I gathered about values and colors in my imaginative piece.
Colors used: Permalba White, Winsor Yellow (PY4), Gamblin Quinacridone Magenta (PR122), Gamblin Manganese Blue Hue (PB 15:4), Gamblin Napthol Scarlet (PR 188), Winsor & Newton Permanent Green (PY 138, PG7, PW6), Utrecht Ultramarine Blue (PB29). The first two studies I used pretty much all these colors. The third attempt I used primarily the white, yellow, magenta, and manganese blue hue.
While searching the internet for tips on plein air painting at night, or nocturnes, or plein air at twilight, I found James Gurney's post about painting at night http://gurneyjourney.blogspot.com/2014/09/night-sketching-in-alleys.html. Thanks Mr. Gurney! He lists several different little lights. I ended up going to my local music store and purchased a portable, battery operated, dual-head gooseneck music stand light.