Recently we were introduced to a resource to save money on food: Fare For All.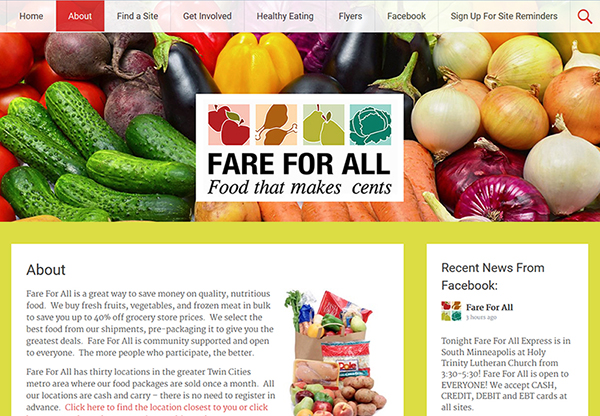 From their site, "Fare For All uses a cooperative food purchasing model that utilizes volume buying power.  Fare For All purchases produce and meat in large quantities at wholesale prices.  Participants are then able to buy their share of the bulk order for up to 40% savings."
It's open to anyone and everyone. Depending on the season, the food might be locally grown or brought in from out of state. You can learn more on their About page: http://fareforall.org/about-fare-for-all/
How much does it cost and how long does it last?
There's two adults in our family. For $20 we can purchase a box of meats (4-5 different items) and a box of produce (baker potatoes, carrots, onions, and 2-3 different types of fruit). We don't eat a lot of meat so that lasts us about 3-4 weeks. The produce lasts about 2 weeks. How long the food lasts will depend on your own family size and eating habits. They also have several different packages at different costs. We do need to round out the groceries from the regular store (milk, cheese, peanut butter, etc) but we are still saving money. Who doesn't like that?
Where is this place?
There are many pick up or purchase sites around town, or you can visit their warehouse every other Monday. At some sites you can just drop in and purchase what you want, other sites require you pre-order for pick up. Check for locations on the Find a Site page: http://fareforall.org/find-a-site/
Happy saving!