I only actually attend a few shows, the rest I just mail art in. For the past 2 years Gen Con has been one of those shows I do in person. What follows is my experience with it. Perhaps it will be helpful to some folks,
Getting there: I drive. Last year I picked a buddy up from Chicago and she helped load and unload. This year I pack everything I need and took it there myself. It's manageable.
What to pack and how move it: I have a check list of things to bring. Having a checklist helps me stay organized. I have a handcart that folds down so I can wheel my stuff in and out of the show and store it under my table when not in use. Last year my booth buddy and I carried everything from the car. Ugh. Using the cart this year was a HUGE help. This handcart, actually. Don't rely solely on bungee cords. More on that later.
I packed several arty things to do while I was there. Next time I'm just going to bring my sketchbook and my pencil box.
Staying there: shop around for cheap rooms, they do exist. There are more options for staying if you have a vehicle to drive in every morning. There's also relatively inexpensive parking if you're willing to walk some blocks. There are also many hotels available downtown and Gen Con has some special rates through their housing department. Though in my experience it has been cheaper to find a hotel in the burbs and drive in.
Art: I have some canvas prints, originals, and matted prints that I hang on the display panels. These are mainly for getting people's attention. Next to the display art I made little title cards with prices. I printed out little Avery labels and stuck them on black foam core which I bevel cut so the foam edge wasn't visible. I attached them to the panels with Velcro.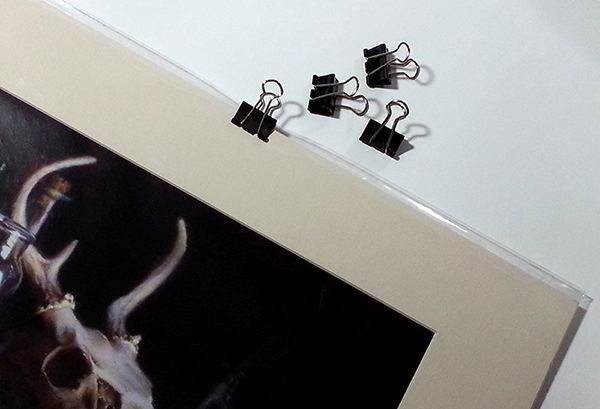 On the table I displayed 2 portfolios with available prints. One has labels on the sleeves with piece name and price of print. The other is my actual portfolio that I show clients. I'll be replacing that one with a cheaper version so I can put labels on the sleeves. Plus then if I leave the table to walk my work around to companies, there will still be art samples for shoppers to peruse. I don't sell the prints that are in the portfolios. I have a Rubbermaid bin with copies of the prints in sleeves with backing board. Each section of prints is defined by a sticky note tab so I can easily flip to what I need. The prints are not matted.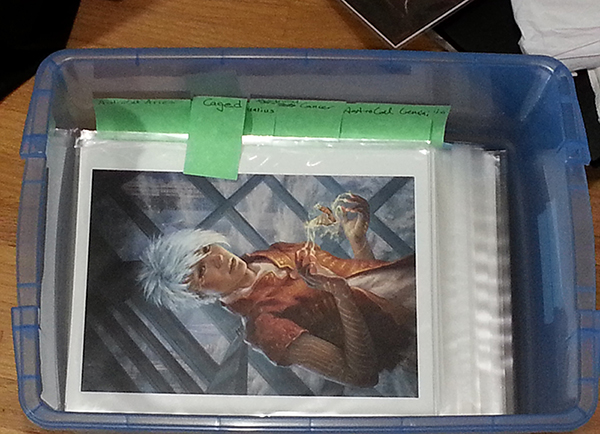 I also have a sheet that lists inventory for the show and prices of pieces. Then when something sells I keep a tally on the same sheet.
To sell art at Gen Con you have to fill out a carbon copy slip (supplied by them). The customer brings the slip to the Art Show pay area. The Art Show staff handles the sale and sales tax. Then the customer brings the slip back with a paid stamp on it to exchange for the art. It works pretty well. I think only 2 people changed their minds about buying something after they found out they had to go wait in line instead of just pay me and walk.
Having a range of prices helps too. I have items ranging from $2 up to about $2000. Of course the $2000 one didn't sell, I use it mainly for display. A $175 original did sell (a pleasant surprise).
I don't do at-Con commissions (maybe someday). I did see other artists doing it. One artist said she would take the orders during the show and draw them at night. Then she would have people pay and pick up during the next day. Having to ship things to people afterward would take more of her time. As we know, time is precious.
Observations: There was a variety of work again this year. Lots of great art to appeal to lots of different people. People visit the Art Show for many reasons it seems: to shop; to kill time between events; just to look at cool stuff; to get game cards signed; to buy from a specific artist who will be there.
The setup:  I opted for the 2-panel, one table setup again. That seemed to work well with the amount of work I had to display. Gen Con Art Show supplies the panels, table, 2 chairs, garbage bucket. The 2-panel table setup is $327. Th 4-panel table setup is $419. Electrical is extra. To hang art they recommend drapery hooks. That's if you're hanging framed art with wire. Or you can use binder clips to attach to matted prints and then hang the clip off the drapery hook. Velcro works for some things. More on that later.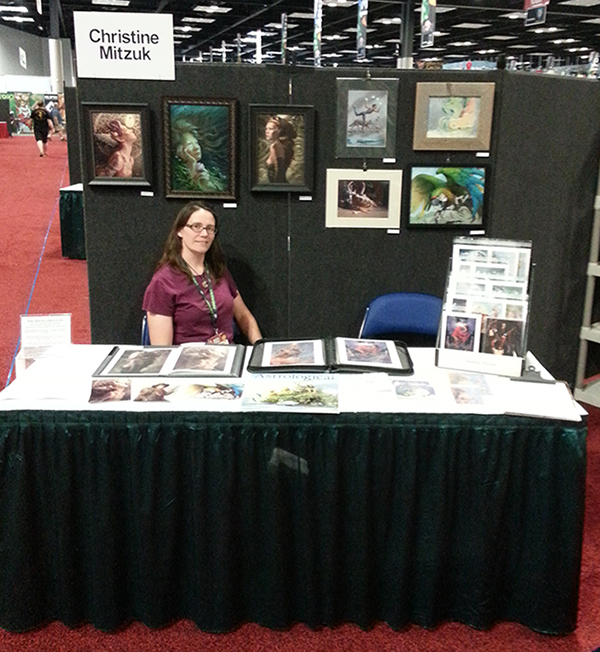 Next year: the Gen Con Art Show will be doing things differently. Getting space will no longer be on a first come first serve basis. There will be a jury process that will start in January/February. There will be a $25 non-refundable application fee. They had a memo in our packet about it this year. So if you want more information, watch the Gen Con Website, the Art Show Facebook page, and try to get on their mailing list.
If I end up doing Gen Con again, I'd like to make some changes to my setup.
Design and print a price list that's legible from 3-5 feet away. Along with that I'm going to streamline the note cards I sell – make them all the same size and price.
Design a sign with my name that reflects my artist brand.
Display more art on the panels. Practically fill the space. Instead of the framed originals and canvas prints, I'm considering doing what I saw other folks do. They displayed prints. I especially liked the ones that were matted all the same. Charles Urbach has a nice display. He printed his pictures with faux mats so it's all one image/one piece of paper. He mounted these prints on foam core. Then used Velcro to attach the display pieces to the panels. It looked quite nice. Plus it acted as an immediate portfolio for those wandering around looking for artists. I might have a few originals but at the $175 or lower range.
Have everything displayed as a designed whole. I thought I did. I even layed everything out on my living room floor. Not so. I had one piece that had a light mat while everything else had a middle value mat or darker frame. That one piece looked fine at the last convention I was at. There it was hung among other matted pieces of similar value on metal grid walls. At Gen Con on the dark panels it stuck out too much and distracted from the pictures.
Lights...maybe. A few people brought lights to shine down on their panel displays. I think this helped counteract the strong convention center lights and gave a professional looking presence.
This year I held a drawing for chance to win a print or 20% off a purchase. It got people a little excited but not many. I think if I had a larger following it would have created more of a buzz. If anything, it got people into my art if they didn't have money enough to buy a print. Or, maybe next time I'll do some other kind of small, very limited number giveaway.
I need to practice getting people's information. This year I had a sign-up sheet to collect email addresses for future mailings. The drawing also allowed me to collect email addresses. I made sure to get cards from art directors that stopped by who were interested in my work. But when it comes to individuals asking about personal commissions, I need practice. I made sure they took cards but I didn't get their information so I could follow up with them after the show.
Not having a booth buddy this year wasn't too bad. My neighbors watched my stuff and handled a sale or two while I was away. However, being gone for long-ish periods of time (showing the portfolio around) was kind of tricky because that was one less display book of prints to buy at my booth. Also, I wasn't at the table to talk to folks. So next year I think I'll find someone to help.
Show the portfolio around Thursday - Friday and maybe Saturday. Save Sunday as the day to be at the table. That's when most of the sales seem to happen. People are watching their wallets and deciding which of the many cool things they found during the con they can't live without.
I need to get packing straps. Bungee cords worked well when wheeling the cart to the convention center. On the way back they gave way when I didn't clear the lip to the parking lot. I thought I'd make it. Major fail there. Ouch.
All in all year 2 in the Gen Con Art Show was better than the first. I was more social this year. I went out to dinner with many folks. I had enjoyed talking to my Art Show neighbors. Plus I went to the Artist Reception and had good conversations. I was a bit more comfortable with the drive to and from Minnesota and the process of setup and tear down. More people bought prints and one original sold. However, financially speaking, the investment (so far) has been more than the sales.
Right now I look at the whole experience as part of a long term game plan. I'm getting my art and myself out in front of many eyeballs. I'm meeting people and making some new friends. I'm hoping it's a cumulative effect. I'm not going to judge right now whether this will be a good idea next year or not. I'm going to wait till at least December to see what happens.