I'm prepping for IlluXCon which takes place weekend in Allentown, PA. My newest originals, "Golden Dragon Eye", and "Voodoo Queen (Woman of Power)", are framed and ready for their debut!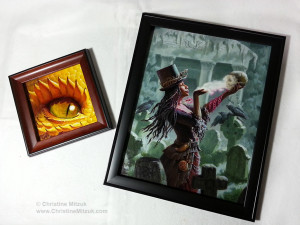 You can see them in person this weekend. I will be in the evening Showcase Friday, October 23, 8:00 pm - midnight, and Saturday, October 24, 6:00 pm - 10:00 pm. In addition to these paintings, I'll have a collection of original drawings, sketches, and limited edition prints for sale. You will find me sharing a table with the wonderful Galen Dara.
The Showcase is open to the public free of charge and will take place at the Allentown Center City Holiday Inn.
You're welcome to stop by and say, "Hi!"