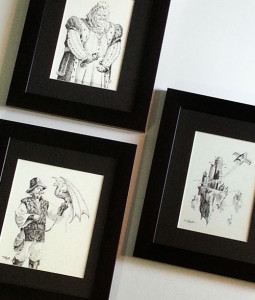 There's less than a week away to MarsCon in Minnesota! I'm very excited to be one of the creative guests of honor and am looking forward to participating in the events.
I created three original pen and ink drawings for the convention's program book. The original art will be on display and for sale in the Art Show (matted, framed, and ready to hang).
I'll also be doing an oil painting demo (solvent free!) on Friday and Saturday in the Art Show.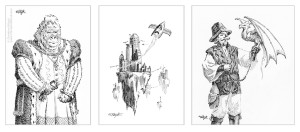 My Rough Schedule
Note: you do need to register for a badge for the convention to participate in any of these events.
Friday:
Oil Painting Demo in the Art Show, 3 - 4:30 pm
Opening Ceremonies, 7 pm
Artist Reception, 9 - 10:30 pm
Saturday:
Artistic Process, presentation of my process for picture making for both traditional and digital, including the maquette from Bear Falls. A brief digital painting demo to follow. 10 am
Oil Painting Demo in the Art Show, 1:30 - 4:30 pm
Art Auction, 7 pm
Figure Drawing with a fabulous costumed volunteer, It will be a mini workshop where I'll share some of what I teach in my figure drawing classes. 10:30 pm
Sunday:
Artistic Inspiration, panel discussion with a collection of creatives from different fields, 3 pm
Closing Ceremonies, 4 pm