Costumed Figure Class
Special aerial poses. One day only!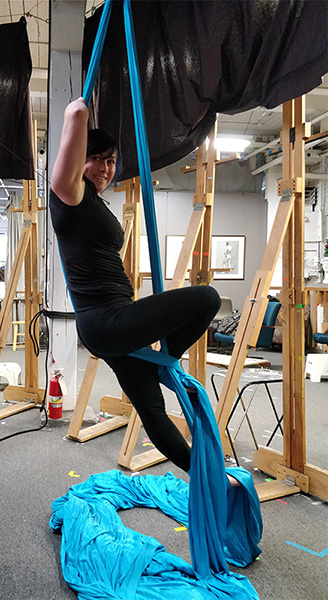 Costumed Figure Class will have a special class of aerial poses by our model suspended with her silks! Poses will last from 30 seconds up to about 10 minutes.
Tuesday Feb. 20, 4:15 - 6:45pm
(week 5 of our 15 week class) 
SPACE IS LIMITED to 17 spots. Preregistration is recommended (as of yesterday February 6, 2018 there were 8 spots remaining). Students who are registered and have paid for the full class in advance will have priority for picking a spot to draw.
Full class fee prorated to the remaining 11 weeks (starting Feb. 20): $183.33
Drop-in/single class fee: $20 per class
Check or Cash. Please write checks to The Atelier.
To sign up for this special afternoon call The Atelier at 612-362-8421. To reserve a spot, mail a check to The Atelier so it arrives no later than February 16, 2018, or drop off payment before February 20 (call the school first for open hours).
On the day of class, please arrive 15-20 minutes early to check in and purchase any supplies.
Feel free to email me with questions regarding this class at cmitzuk@gmail.com.
Supply Recommendations
I recommend a set up of a board 18"x24" or smaller with multiple sheets of paper or drawing pad attached to it. That way most everyone can work with a comfortable amount of space around them. Individual sheets of 18"x24" newsprint may be purchased from the store along with a board to match.
I tend to use one of the "pencil" boards from The Atelier with 11"x17" printer paper clipped to it with binder clips or bulldog clips. The boards measure about 12"x18" and may be purchased from The Atelier store. You can purchase 18"x24" sheets of newsprint and cut them down, or bring your own paper.
The store accepts cash or check (separate from the class payment).
We also have plenty of chairs so you are welcome to sit and draw with a pad in your lap.
Feel free to email me with any questions regarding the class or supplies cmitzuk@gmail.com.
Location
The Atelier Studio Program of Fine Art is located on the 2nd floor in the Fisk Building
1681 East Hennepin Avenue
Minneapolis, MN 55414
Free off street parking in the large lot. Enter through the glass double doors to the left of the loading dock.