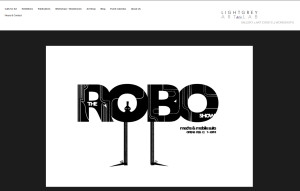 Last Friday I went to the opening night of The Robo Show at Light Grey Art Lab. I just can't stop thinking about it, I think it's one of the best shows they've put on. The range of types of robots portrayed is broad and each piece is a delight to look at.
There are personal robots, futuristic robots, war bots, silly and serious robots, organic bots, metal bots. They packed a ton of creativity into the space!
If you can take a look in person, please do. If not, they have also posted the images on their site https://lightgreyartlab.squarespace.com/the-robo-show and prints are available through their online shop.
I also really like how they display the art. None of it is framed. It's all printed on high quality Epson paper and gently attached to the wall with what look like tiny little magnets.