Update: All 4 Mini paintings have been sold. The drawings are still available!
Two sold. Two remain.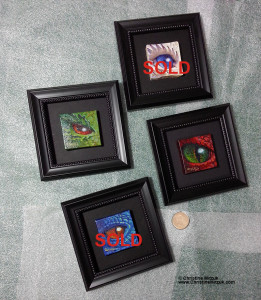 I have two dragon eye paintings available for purchase.
The oil paintings are about 2"x2" and are framed at 5 1/4" x 5 1/4". Each painting is strung with wire across the back so they are ready to hang on your wall.
Each mini canvas is mounted to pH buffered matboard using Acrylic Gel Medium.
Dragon Eye Pencil Drawings
If black and white is more your taste, the drawings are also available for purchase.
Each drawing is about 2"x2".
Each framed drawing measures about 8 4/3" x 8 3/4".
Framed Dragon Eye Drawings
If you're interested, drop me a line. Price may vary because of shipping.