Take time for yourself. Take an art class.
I will be teaching 3 classes at The Atelier: Gestural Figure Study, Illustration, and Portrait.  The Atelier Studio Program of Fine Art is a friendly little traditional art school located in Northeast Minneapolis, MN (a bit on the outskirts of Dinky Town). The school is on the second floor of a red brick warehouse on the corner of Stinson Blvd. and East Hennepin Ave. Off-street parking is available. Feel free to contact me with any questions regarding the classes.
Gestural Figure Study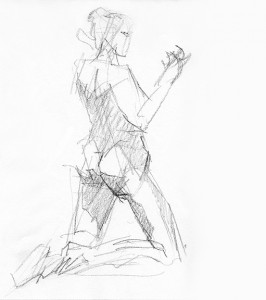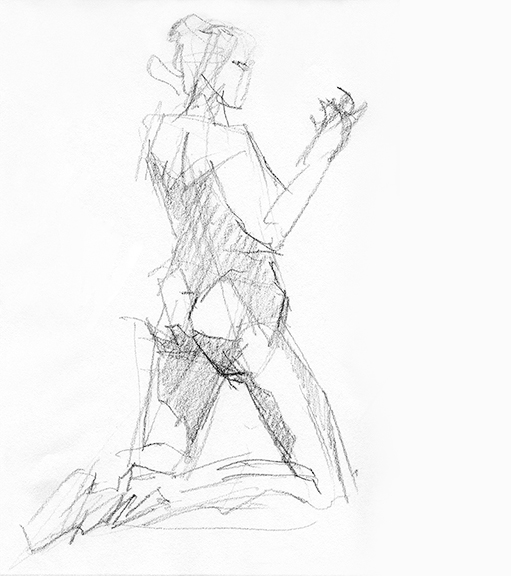 Gain a better understanding of gesture of the figure. This class will mesh The Atelier and Studio Arts figure study methods. Students will explore what gesture is and ways to capture it through quick poses, progressively longer poses, and experimentation. A materials list will be supplied upon registration. Beginners welcome.
Fall class starts TUESDAY Sept. 15, 4:15 - 6:45 PM, $250, 15 weeks.
(Gesture will be offered in the Fall and Summer. It will not be offered in the Winter session. Instead look for Costumed Figure Drawing and Painting for the Winter Tuesday afternoon  class spot).
Illustration
Stretch your imagination! During this class, students will develop imaginative pieces based upon a story or individual ideas. We will move from idea generation to preparatory work and on to final art. Emphasis will be placed on composition, and storytelling. Students may choose to work in the medium with which they are comfortable. Christine has experience to support watercolor, colored pencil, pen and ink, or oil paint.
Fall class Starts Thursday Sept. 17, 7:00 - 9:30 PM, $230, 15 weeks.
Winter class starts Thursday Jan. 28, 7:00 - 9:30 PM, $230, 15 weeks.
Portrait and Interior
Students draw in charcoal and may progress to oil or pastels. The portrait model will be set within an interior. Advanced students can take advantage of the entire composition. Capturing the likeness is emphasized. Color and techniques in oil and pastel are covered. Instructors: Christine Mitzuk (Tuesdays) & Laura Tundel (Thursdays).
Fall classes starts Tuesday, Sept. 15, 7:00 - 9:30 PM
or Thursday, Sept. 17, 7:00 - 9:30 PM, $250, 15 weeks.
Winter classes starts Tuesday Jan. 26, 7:00 - 9:30 PM
or Thursday, Jan. 28, 7:00 - 9:30 PM, $250, 15 weeks.
Register for classes one of four ways:
Option 1: Call The Atelier at 612-362-8421. Main hours are 9am - 4pm Central Time or during evening classes. Please leave a message if you don't get a live person.
Option 2: Print out the registration form from the current course catalog PDF.
Option 3: Print out this form, fill it out, and mail it to The Atelier, along with payment. See form for instructions.
Option 4: Contact me and I'll help you out,