Gen Con Art Show 2015 Review
This year was even better than last year. I had some great conversations, learned some cool information about parrots, got to hang with my art buddies, and met some new folks.
The set-up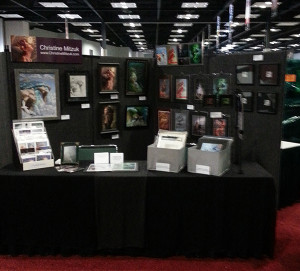 Originally my space looked like this. Bear falls drawing and painting on the left. Next my other larger framed art (canvas prints and original), then matted prints, then the dragon eye drawings. With this view, very few people noticed the Bear Falls painting. It's pretty big so that seemed strange. I thought by putting the painting facing out to the main walkway (off the photo to the right), people might be drawn in. Not so. I don't think it jumps out from the visual chaos that is Gen Con. Plus I think people on the main walkway had a destination in mind so weren't sightseeing. Plus it seemed that most of the traffic was moving out of the Artist Alley toward the main walkway, not in.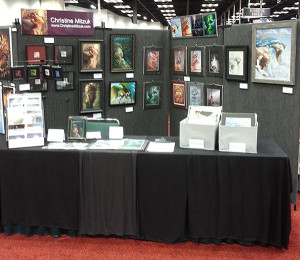 I swapped my setup. Bears on the right, dragon eyes on the left. More people saw the painting as they passed through Artist Alley and I ran out of those prints I brought with me.
This year I also had a few signs printed (color on paper, mounted to foam board, and varnished). One had my name on it. The other had some samples of my work, some of which were published in games. The place I had it printed tried several times to get it "right" and I ended up with what you see in the photo. The name sign turned out ok. The sample work sign I think I could have left home. I was trying to show more of my capabilities but because the printing was different than how I do my prints, there was some confusion about which version was "correct". A few people were disappointed that the prints I had for sale (also on display below the sign) weren't as saturated as what was on the sign. I took that sign down. The printer had to charge me for the full piece of foam board, which is why I had 2 signs made. In hind sight I should have just had the printer make a second name sign.
Dressing the Part
This year I tried to look more like a professional artist. I tried to match my clothing with my art aesthetic. I don't know if it altered other people's perception of me but it altered mine. I think it put me more in the mindset that I'm running a business and I'm there to work (and have fun!).
Talking to People
I think having worked in retail for a few years helped me with this. I'm much more comfortable talking with just about anyone. I still need to work on how I talk about and engage people in the art. One of my neighbors across the way was exceptional at this so I tried to listen and observe her interactions with people. Her art was awesome, she dressed the part, she came across as very personable, confident (not cocky).
Price Points and Inventory
I had a range of price points. Post card size art for $2 each. A pack of 4 for $8, note cards $3-$4 each, loose prints $20, matted prints $25, and originals of varying sizes and prices. I did not sell any originals at the show but had some interest. I think the originals act more as a draw to my table. The packs of 4 post card size art did pretty well. I think because it offered people more images for their money, and helped those that couldn't make up their mind on which one they wanted.
Next Year
I think next year I'll have some more lower priced items: 5"x7" prints matted and loose, 4"x6" usable post cards, maybe some utilitarian items like mugs or magnets. Plus next year I'll be more practiced in talking with people about the art. I had only made post card size art of a few of my images. Several people were looking for a small version of a print but I didn't have it. I don't think I'd make small versions of every image I have but maybe more than I had this year. I'll have to give that more thought.
Back to Work
Many people have said something like this: make great work, show it, be great to work with. Time to make some more art!