Imaginative Art Inspiration Space
Our Stress-Free Adult Creativity Class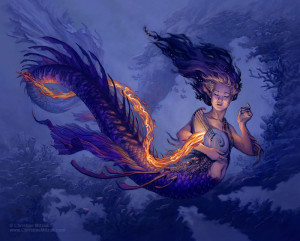 Let's face it; you probably became an artist because you have visual ideas bursting inside you:  Why wait to share them with the world?  What you really need most is a nurturing mentor with a track record of realized, enchanting images, who creates a safe, judgment-free workspace where you can loosen up, have fun and play.  Award-winning artist and illustrator Christine Mitzuk builds such a positive, relaxed environment whenever she teaches a class.  Her warm spirit will help you bring your most precious and inspired thoughts to artistic fruition.
Explore your creativity by developing an imaginative picture based upon an existing story that you select, or an idea that you originate. Work at your own pace to learn the time-honored steps of the creative, visual process – from idea generation, through preparatory work, to completed project. Emphasis will be placed on storytelling through composition and character development, as well as how color theory enhances visual communication. Students choose to work in the medium with which they are comfortable. Christine has experience to support watercolor, colored pencil, pen and ink, or oils.
This class is held at The Art Academy, LLC in St. Paul, MN. It's conveniently located on Snelling Avenue.
Starting WEDNESDAY April 5,  8-9:30 PM, 8 weeks
To register for class at The Art Academy, LLC, visit the registration page.