Today was our last day. What a great week.
Julie brought in celebratory donuts from Sara Jane's Bakery. Thanks Julie!
Here's where we left off. She did color studies in colored pencil. Then Julie decided to try something new and gave gouache a whirl. Here's a shot of some of her process (the "Borged" Joan Crawford).
Lisa-Marie illustrated her LMNOP (Lisa-Marie, Not [Obviously] Presley). Here's a shot of some of her tools and her color explorations. We expanded her comfort zone of color.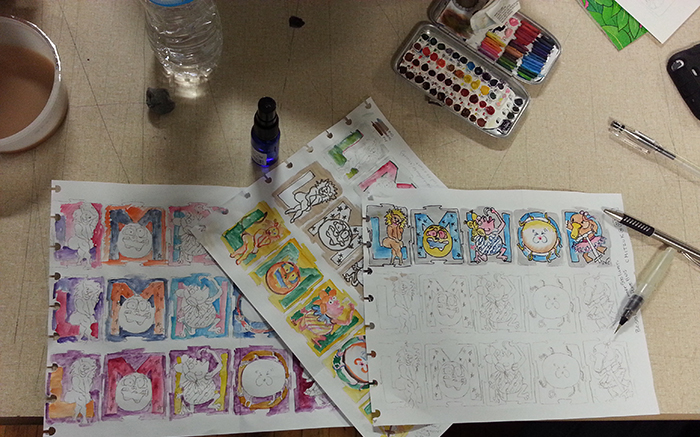 Look for her art. She did a fabulous Faux-Fiti book where she took her very cool sketches and drawings and superimposed them onto photos she took of signs and buildings around St. Paul. It's an unnumbered datebook so you can use it any year, any month, with generous sized squares for notes. Or just buy it to enjoy the creative juiciness.
I thoroughly enjoyed teaching this workshop. Thank you Julie, Lisa-Marie, and Kathy (who had to cut her week short) for make it a wonderful, inspiring experience.
Art on!